Discussion Starter
·
#1
·
I thought it would be useful to have a thread on engine removal techniques. I removed mine from the bottom, but I kept the radiator and crossbar in place. (I removed the colling fans, covered the radiator with protective cardboard and pushed the a/c condenser back towards the radiator.)
A very rough outline: With the wheels, exhaust manifold, exhaust "A" pipe, center beam and radius rods removed, I was able to lower the entire car so that the engine and trans rested on a furniture dolly. Then I removed the engine mounts and jacked up the car. I was then able to roll out the engine/trans assembly resting on the dolly.
The innovation I hit upon - after staring at the engine compartment for about an hour - was to leave all the intake manifold connections in place. That is, before I removed the engine I removed the nuts holding the intake manifold to the side of the engine, pushed the manifold back from the engine about an inch, and suspended the manifold in place with some rope. In this way I could leave most of the fuel, vacuum, water, electrical and throttle connections untouched. I think this makes the job much easier. (I did have to remove the metal water pipe that runs from the water pump outlet to the thermostat housing on the passenger side of the manifold.)
Here's a picture of the manifold after the engine was removed: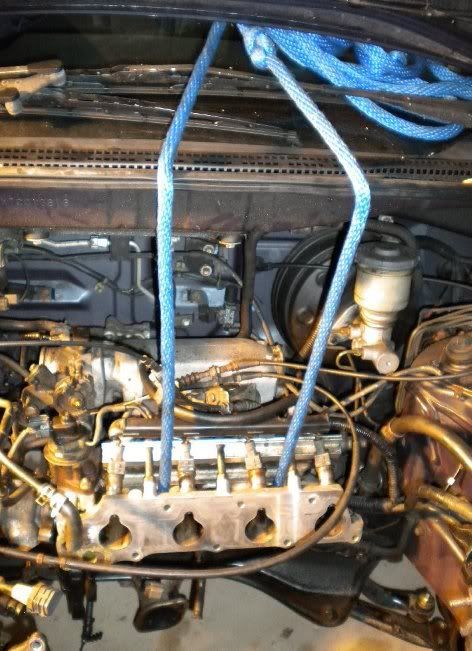 When I was done it occurred to me that I might have been able to save more time if I had removed just the engine without the transmission. (foxx mentions leaving the trans in place - and installing the motor from above - in this thread:
http://www.odyclub.com/forums/showthread.php?s=&threadid=70935&perpage=15&highlight=&pagenumber=2
)
Feel free to add your own suggestions and experiences.
Dan